USI 2-in-1 Hardwired Smoke and Fire Smart Alarm with 10 Year Sealed Battery and Universal Smoke Sensing Technology (MI106S)
Availability:
Out of Stock
You will receive an email when this item is back in stock.
2-in-1 Universal Smoke Sensing and Fire Alarm
Responds 87% faster to slow smoldering fires
Responds quickest to fast flaming fires
Hardwired alarm with a 10-year sealed battery backup that provides a decade of peace of mind even when the power goes out.
Microprocessor eliminates nuisance alarms
Power and alarm LED's
Test/silence button
Product end-of-service life warning
Swift installation process
Mounting hardware included
Loud 85 dB alarm
10 Year Limited Warranty on both the battery and alarm

Meets New Laws & Legislations - This alarm exceeds industry standards, and is listed to UL Standard UL 217 and is California State Fire Marshal approved.
Product Features
The USI MI106S Smoke Alarm features a 10-year sealed battery for permanent power and continuous protection in the event of a power outage. Universal Smoke Sensing Technology detects fast flaming fires and slow smoldering fires while microprocessor intelligence virtually eliminates nuisance alarms for the perfect two-in-one home safety protection. Studies show that one of the leading causes of preventable death due to smoke and fire is a deactivated or inoperable alarm. This USI Hardwired Smoke and Fire Alarm is equipped with a 10-year sealed battery that provides a decade in peace of mind, while removing the need for battery replacement. Permanent Power allows you to simply install and activate the alarm for protection that will last for up to 10 years. This gives you maintenance-free battery power, eliminating low battery chirps and the need to buy replacement batteries throughout the life of the alarm. Purchasing a permanent power alarm saves you money and reduces environmental impact by providing environment friendly protection. This USI Smoke Detector reduces environmental waste and eliminates disposal of up to twenty 9-volt batteries.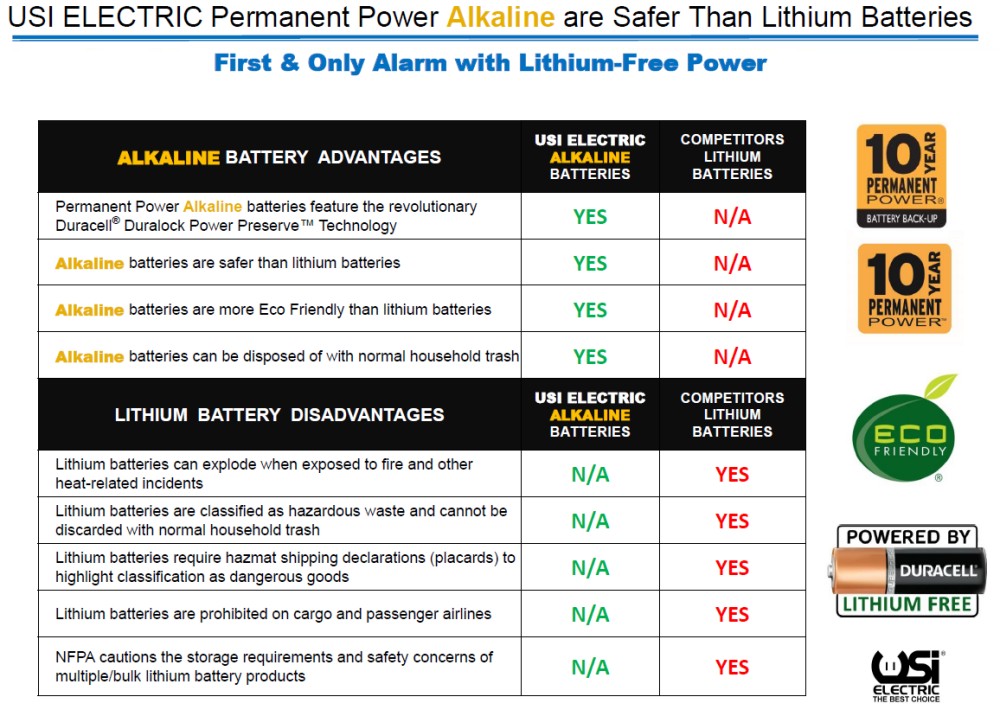 Product Details
Warranty: 10 Year Limited Warranty on both the battery and alarm
Power Source: Hardwired
Alarm Battery: 10 year sealed battery
Alarm Sensor Type: Universal Smoke Sensing Technology (Ionization & Photoelectric)
Manufacturing Credits: ISO 9001 certified factory, UL listed & CSFM listed
Packaging: Easy Open Box Packaging
Product Dimensions (W x H x D): 5.75 x 5.75 x 1.75 in.
Product Weight: 0.49 lbs.
Product Specs
Product Manuals
USI Hardwired 2-in-1 Universal Smoke Sensing Smoke and Fire Smart Alarm Videos
If you are interested in ordering a large quantity of items you may qualify for volume pricing discounts. Volume Discount Pricing is a great way for customers to save big on large, bulk orders of most items available in our store. Please send a bulk order request to our friendly sales staff so they may create a quote and provide personal service for your order! You will receive a response within 1-2 business days and our office hours are Monday through Friday, 8am-5pm CST.
We make it as easy as possible to ensure you get the lowest prices available:
Let us know what products & the quantities you are interested in.
Get a detailed quote from a dedicated sales rep.
Our warehouse ships directly to you.
You enjoy the savings & are now a preferred customer.
Send A Request Now
USI Hardwired 2-in-1 Universal Smoke Sensing Smoke and Fire Smart Alarm Reviews
Replacement units
Easy to replace my 10 year old units. I called in and someone helped me to ensure that I purchased the correct units. Thank you!
replacement
Ordered 4 smoke detectors w/10 year battery. Process was simple delivery was quick and installation went without an issue. My second time dealing with Universal and I will continue to purchase from them.
Brooke B
December 29, 2022
Just what I needed
Easy installation, no false alarms
I installed two of these as replacements. The installation was simple and we haven't had any false alarms.
Terry G
November 29, 2022
Great product. Change every 9-10 years instead of changing batteries every 6 months. Easy to change out old inefficient alarms. Once installed, future replacements take 1-2 minutes to install
Edward S
November 4, 2022
Excellent Customer Service
When I called to replace my 18 year old hard wired alarms, the agent was extremely helpful regarding both my options and how to do the install myself. Referred me to a Youtube video... shipment came right away at a price lower than I expected.
Hardwired Smoke Alarm
Item was purchased as a replacement for an expired unit. Unit installed exactly like the one replaced and is working as discribed. I especially like the 10 year sealed battery.
Joseph C
September 27, 2022
Easy replacing connected devices
In less than 1 hour I took down 8 old USI devices and replaced them with new ones. Love the 10 year sealed battery, no more semi annual 9v battery replacement.
Sastry D
September 12, 2022
prompt service easy to install
Came on time as states, and easy to install.
Anthony H
August 18, 2022
Perfect for Multi-family
These are the perfect alarm for multi-family units. Tamper proof 10 year batteries and tamper proof mounting. Just set them and forget them, until they tell you it's time to change the alarm 10 years later.