Universal Security Instruments Sensing Plus Multi Criteria Hallway Smoke and Carbon Monoxide Alarm With 10 Year Tamper Proof Battery (AMICH3511SC)
You Save: $9.00 (12% Off)
3-in-1 Smoke, Fire & Carbon Monoxide Alarm provides 10 years of continuous protection against fast flaming, slow smoldering fires and carbon monoxide.
New Security Sensing Plus® multi-criteria smoke & fire sensor uses AI-artificial intelligence techniques that can differentiate and classify smoke & fire profiles.
10 year permanent power via lithium-free alkaline battery (included) will never have to be replaced throughout the life of the alarm.
Built-in microprocessor virtually eliminates nuisance alarms.
Maintenance free battery power provides 10 years of safety protection.
Power and alarm LED's
Test/silence button
Loud 85 dB alarm
Tamper-proof design prevents other from tampering with alarm's battery.
10 year warranty on both battery & alarm
New Security Sensing Plus Multi Criteria Detection Technology
Product Features
The USI AMICH3511SC 3-in-1 Sensing Plus® Smoke, Fire & Carbon Monoxide Alarm provides 10 years of continuous protection against deadly threats in the home. New Sensing Plus® Multi-Criteria Detection provides the benefits of both photoelectric and ionization alarms in one device to protect against fast flaming and slow smoldering fires. This combination detector also offers protection against the silent killer - carbon monoxide - making it a 3-in-1 alarm. The ideal addition for new or replacement installations, Universal Sensing Plus Alarms® are suitable for houses, apartments and mobile homes in every room.
This 3-in-1 detector implements a 10 year lithium-free battery that will never have to be replaced throughout the life of the alarm, giving you a decade's worth in peace of mind even in the event of a power outage.10 Year Permanent Power also saves money from battery replacements (up to $38.00 over the 10-year life of the alarm), eliminates annoying low battery chirps and helps the environment by reducing environmental waste from disposed batteries. This combination detector features microprocessor intelligence that offers superior false alarm resistance. A single silence/test button to quiet a non-hazardous alarm and an end-of-service life warning that sounds when it's time to replace the battery (approximately 10-years from activation) have also been included.
Perfect for replacing existing USI Alarms, Universal Security Sensing Plus® Combination Detectors feature a large mounting base to cover imperfections in drywall and the option to replace retrofitting applications. The quick activation battery pull tab allows for easy installation while the deactivation key switches the alarm off and makes the batteries safe for disposal. Once the 3-in-1 combination detector is deactivated, the tamper resistant feature turns on to prevent deactivated alarms from being reinstalled.
This 10 year combination alarm conforms to UL 217 Standard 8th Edition and UL 2034 Standard 4th Edition. 8th edition smoke, fire and carbon monoxide detectors have also been approved by the California State Fire Marshal and Federal Housing Authority (FHA) to exceed industry standards. New Sensing Plus® Multi-Criteria Detection provides:
Resistance to False Alarms from Cooking.
Detection of Polyurethane Foam in both Slow Smoldering & Fast Flaming Fires.
Immunity to High-Voltage Current Surges.
For maximum protection, install an alarm inside every bedroom, outside every sleeping area and on all levels. The USI AMICH3511SC 3-in-1 Sensing Plus® Smoke, Fire & Carbon Monoxide Alarm comes with a 10-year limited warranty that covers both the battery and alarm.
Meets New Laws & Legislations - This alarm exceeds industry standards, and is listed to UL 217 Standard 8th Edition and UL 2034 Standard 4th Edition. It is California State Fire Marshal approved.
*New Security Sensing Plus® Detection Technology UL 217 8th Edition Tests Include:
Resistance to false alarms from cooking
Detection of polyurethane foam in both slow smoldering & fast flaming fires
Immunity to high-voltage current surges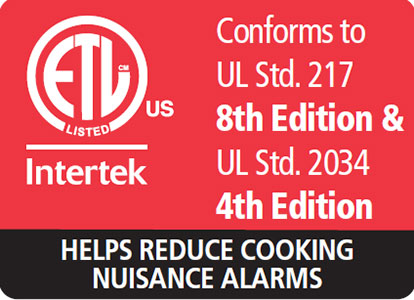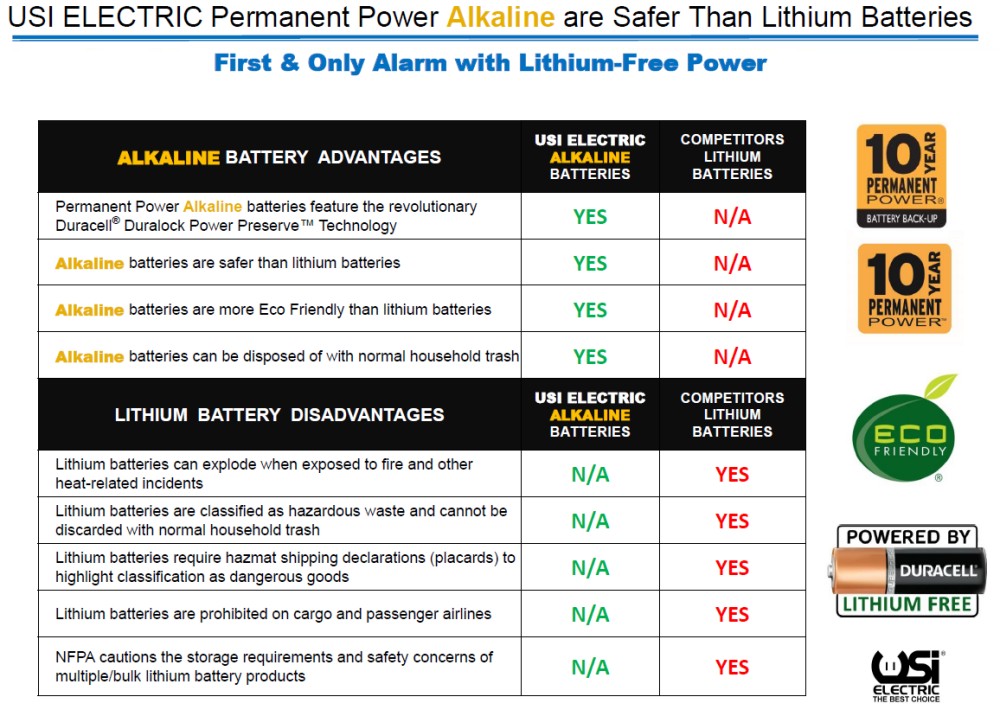 How often should I replace the battery in my smoke, CO and natural gas alarms?
Many of our alarms come with a 10-year sealed Permanent Power battery that never needs replacing during the 10 year life of the alarm. Batteries in non sealed alarms should be replaced at least once a year or when the low battery signal sounds. Permanent Power battery technology helps keep you safe, because working smoke alarms are an important factor in surviving a home fire.
What's the optimum placement of protection devices in my home?
Early detection of smoke, carbon monoxide, and natural gas is key to saving lives. The National Fire Protection Association (NFPA) recommends installing a smoke alarm on every level of your home, including finished attics and basements. You are also encouraged to install a smoke detector inside every bedroom and at the top of certain stairways.
Do I need four kinds of detectors or can one do it all?
You never know what kind of hazard will strike your home, or when. That's why we recommend technology that can detect carbon monoxide (CO) and natural gas as well as smoke and fire. You'll get the most protection from devices that can quickly and accurately detect and respond to a range of threats.
What are "nuisance alarms"? Why are they a concern?
A smoke alarm that goes off when there's no emergency is annoying. According to the National Fire Protection Association (NFPA), such "nuisance alarms" are the leading reason why homeowners intentionally disable their smoke detectors. Yet doing so can be deadly. A survey conducted by the NFPA found that smoke alarms sounded in only half of the home fires reported to U.S. fire departments, and almost two-thirds of home fire deaths resulted from fires in homes with no smoke alarms or no working smoke alarms.
Product Details
Warranty: 10 Year Limited Warranty on both battery and alarm
Alarm Power Source: 10 Year Sealed Permanent Power Battery
Alarm Sensor Type: New Security Sensing Plus Multi Criteria Detection Technology (Ionization & Photoelectric) + Electrochemical CO Sensor
Manufacturing Credits: ISO 9001 certified factory, UL listed & CSFM listed
Packaging: Blister Card Packaging
Product Dimensions (W x H x D): 5.63 x 5.63 x 1.75 in.
Product Weight: 0.42 lbs

Product Specs
Product Manuals
USI Sensing Plus Hallway Smoke and CO Alarm, 10 Year Battery Videos
If you are interested in ordering a large quantity of items you may qualify for volume pricing discounts. Volume Discount Pricing is a great way for customers to save big on large, bulk orders of most items available in our store. Please send a bulk order request to our friendly sales staff so they may create a quote and provide personal service for your order! You will receive a response within 1-2 business days and our office hours are Monday through Friday, 8am-5pm CST.
We make it as easy as possible to ensure you get the lowest prices available:
Let us know what products & the quantities you are interested in.
Get a detailed quote from a dedicated sales rep.
Our warehouse ships directly to you.
You enjoy the savings & are now a preferred customer.
Send A Request Now
USI Sensing Plus Hallway Smoke and CO Alarm, 10 Year Battery Reviews
Easy to install
I was pleased that I did not have to drill new holes in the ceiling because the new unit uses the same spacing. Perhaps this is a standard, but convenient nonetheless. The instructions were clear enough.
AMICH3511SC
Excellent product,ease of use
AMICH3511SC
Excellent product,ease of use
AMICH3511SC
Excellent product,ease of use
Donald S
September 22, 2022
Good product
Product delivered within 3 days. Easy installation with no complications. Product has had no false alarms so far.
The safety of both smoke and CO detection
My basement stairs hallway smoke alarm was nearing its end of life. I decided to replace it with this combo smoke and CO alarm as an extra bit of protection. It also meets the latest UL217 8th edition smoke sensing requirements which makes me feel a little safer. Very easy to install. With its 10 year battery I'm all set now for the next decade.
excellent product and ordering process
The on-line store was easy to negotiate, the shipping was fast and product arrived intact. The bracket was easy to install and the alarm seems to be functioning well.
Great CO, smoke and fire alarm
Installed easily, hope it works well...don't want it to alarm, but if a threat, hope it does. Test as expected...hopefully good sensing...
Robert A
February 9, 2022
I haven't had a chance to install the alarms yet but I am very please with service
Leslie P
February 5, 2022
Sensing Plus in 2022
After thorough review of brands and features I chose Sensing Plus because it has the most current 2022 industry standards for smoke and carbon monoxide alarms. They were easy to install in the same location as the old ones that were other brands. I ordered directly from USI Store to ensure they weren't expired or had been sitting in inclement weather.