First Alert Hardwired Hearing Impaired LED Strobe Light - SLED177 (1038510)
You Save: $22.00 (22% Off)
Hearing Impaired LED Strobe Light
The First Alert Hearing Impaired LED Strobe Light features a powerful LED strobe light that's proven to be extremely efficient in providing assistance for individuals with hearing impairments. The intuitive use of a Smart Strobe light carries the ability to distinguish between Smoke/Heat and CO dangers. First Alert Smart Strobe Lights include a wide compatibility range and can be interconnected with First Alert and BRK Smoke, CO, Smoke/CO Combination and Heat alarms (up to 18 detectors, 12 can be smoke alarms).
First Alert's Hearing Impaired LED Strobe Light features a 10 Year Limited Warranty. This hearing impaired strobe light meets UL Standards and fulfills the requirements of the Americans with Disabilities Act.
This LED strobe light is for you if:
You need to install smoke or CO notification for the hearing impaired that meet ADA requirements.
You already have or are purchasing First Alert compatible hard wired smoke or carbon monoxide alarms.
Where to place LED strobe lights:
One should be placed in the bedroom of every hearing impaired person. Additional strobe light smoke alarms should be installed in any room where a hearing impaired person may be present.
This would include residential and institutional applications such as sleeping rooms of hospitals, hotels, motels, public housing dormitories and other multifamily dwellings.
First Alert Strobe Light SLED177
* California and New York Residents - Please note this alarm is not compliant with your State's 10 Year Sealed Battery Alarm Legislation Requirements.

How to Install First Alert SLED177 LED Hardwired Smoke Alarms:
In this guide, we'll be showing you how to install First Alert Hardwired Smoke and Carbon Monoxide Alarms. Here are a few items you'll need before starting the installation process: Needle-nose pliers or utility knife, screwdriver, wire stripper, wire nuts and a ladder.
Hardwired Smoke or Carbon Monoxide Alarm Requirements:
120V household electrical circuit (unswitched 120VAC)
Standard wiring junction box to a 4 in. (10 cm) size, on either the ceiling or wall
Selecting an appropriate location to install your smoke and carbon monoxide alarms (see below guidelines for additional information):

When installing an alarm on the wall, the top edge of an alarm should be placed between 4 in. (100 mm) and 12 in. (300 mm) from the wall/ceiling line.
When installing an alarm on the ceiling, place the alarm as close to the center as possible.
In either case, install the alarm at least 4 in. (100 mm) from where the wall and ceiling meet.
---
Connecting First Alert Hardwired Alarms to 120V Wiring
To begin, turn off power at the junction box and connect your alarm to the building's electrical wiring.
Locate the junction box and turn off power
Remove the power connector from the new alarm's packaging
Using wire nuts, attach the hot (black), neutral (white), and interconnect (orange) wires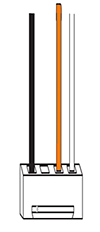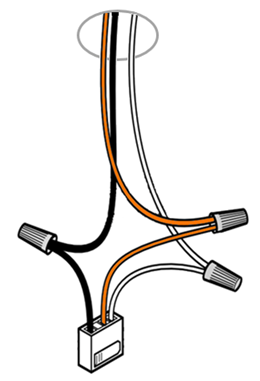 Black wire
(hot)
Attach to black wire on power connector
White wire
(neutral)
Attach to white wire on power connector
Orange wire
(interconnect)

Standalone (single-station) alarm: This wire is not needed; tuck the orange wire into the junction box.

Interconnected alarms:

Strip 1/2 in. from the orange wire on the connector
Use a wire nut to attach it to the orange wire in the junction box (see image below).
---
Mounting First Alert Hardwired Alarms
Secure the mounting bracket to the ceiling or wall using screws (included in the package)
Insert the power connector into the plug on the back of your alarm
Tuck any hanging wires into the junction box
Position the base of the alarm onto the bracket and turn it clockwise until it's secured
Remove the pull-tab to activate the backup battery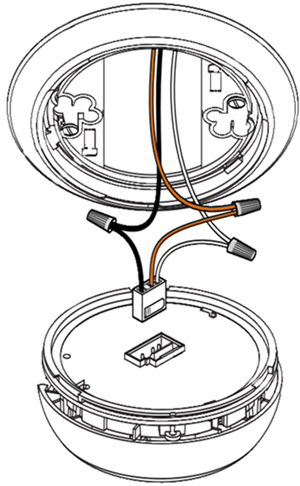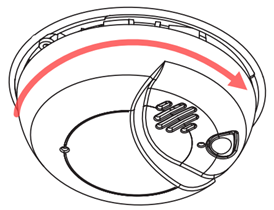 ---
Installing Additional and/or Interconnecting First Alert Hardwired Alarms
If you are installing more smoke or carbon monoxide alarms, you'll want to repeat the process throughout the building. Interconnected smoke and co alarms must meet all requirements:
The same fuse or circuit breaker must power all interconnected alarms.

Up to 18 compatible detectors can interconnect, with a limit of 12 smoke alarms.

The total length of wire interconnecting the alarms should be less than 1,000 ft. (300 meters). This type of wire is commonly available at hardware and electrical supply stores.

All wiring must conform to all local electrical codes and NFPA 70 (NEC). Refer to NFPA 72, NFPA 101, and your local building code for more information.

Interconnect wiring diagram: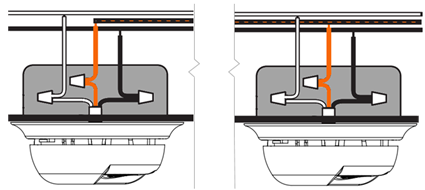 If you have any doubts or reservations about these interconnect requirements, please contact an experienced electrician to install your wiring and hardwired alarms.
---
Restoring Power and Testing Hardwired Alarms
Once you've installed your hardwired alarms, you'll want to restore power to the junction box. Under regular operation, the power indicator light on the alarm will shine/blink to indicate that it is receiving AC power.
Here's how you can test standalone or interconnected alarms:
Standalone Alarms: Press and hold the Test/Silence button until the unit triggers an alarm.

Interconnected Alarms: Press and hold the Test/Silence button until the first unit triggers an alarm. All interconnected detectors should sound off. Repeat this process to test each alarm in the interconnected series.
Product Details
Power Source: Hardwired
Strobe: Powerful 177 candela LED strobe light provides visual warning for hearing imparied residents
Smart Strobe: Separate flash patterns to distinguish between smoke/heat and carbon monoxide
Strobe Signal Synchronization:When multiple units are installed, strobes flash in unison
Flash Rate: 1Hz
Smart Interconnect: Can be linked with up to 18 units (12 Smoke, 6 CO/Heat/Relay)
Alarm Indication: Automatically identifies which unit initiated alarm
Easy Installation: Plug-in power connector for hassle-free installation
Standards: Meets ADA, ANSI 117.1, NFPA 72, UL STD 1971 and requirements for visual signaling devices.
Product Dimensions (LxWxH): 5.3 x 2.4 x 5.3 in.
Product Specs
Product Manuals
First Alert Hardwired Hearing Impaired LED Strobe Light Videos
If you are interested in ordering a large quantity of items you may qualify for volume pricing discounts. Volume Discount Pricing is a great way for customers to save big on large, bulk orders of most items available in our store. Please send a bulk order request to our friendly sales staff so they may create a quote and provide personal service for your order! You will receive a response within 1-2 business days and our office hours are Monday through Friday, 8am-5pm CST.
We make it as easy as possible to ensure you get the lowest prices available:
Let us know what products & the quantities you are interested in.
Get a detailed quote from a dedicated sales rep.
Our warehouse ships directly to you.
You enjoy the savings & are now a preferred customer.
Send A Request Now
First Alert Hardwired Hearing Impaired LED Strobe Light Reviews
Tristan B
January 24, 2022
Good replacement for non-strobe that came with the home
Easy to install the home was already wired for FirstAlert, loud, and bright. Everything I wanted in an alarm.
Wallace Balfour
August 19, 2019
Smoke der
Awesome
Great
Great strobe light. I haven't had any problems with it. Very happy with my purchase
Howard Callen
July 25, 2018
What We needed.
Got 2 of these lights as my wife is deaf in her rt. ear and has very limited hearing in lt. ear. She can not hear alarms going off so put one in bedroom and the other in dining room, kitchen area as they are connected. Very bright flashes and will get your attention. Would recommend.