First Alert 10 Year Battery Photoelectric Combo Smoke & Carbon Monoxide Alarm with Voice & Location Feature, Designer Series - PC910V
Availability: Sorry, this item has been DISCONTINUED.
You Save: $31.00 (34% Off)
10 Year Photoelectric Combo Smoke & CO Alarm w/ Voice & Location
Combining the individual strengths of the standalone versions of the Smoke Alarm and Carbon Monoxide Alarm in the Ten Year Series, the PC910V utilizes Photoelectric Nuisance Resistant Technology to effectively decipher between serious and minor levels in smoke detection. Combine this with an Electrochemical CO Sensor that sets an industry standard in identifying carbon monoxide and you have a combination alarm that excels on all fronts. The PC910V Smoke and Carbon Monoxide Alarm features an unprecedented ten year lifespan that complies with the Current 10-Year Legislation. A leap in technology has eliminated the need to ever power or charge this unit with batteries. The realization of a Voice and Location Feature combined with a fully powered LED and Alarm Indicator serve admirably in warning all nearby participants of smoke detection and a leak in CO.
Photoelectric Sensor Warns of Smoldering Fires
The First Alert PC910V Smoke and Carbon Monoxide Alarm comes equipped with a photoelectric sensor to provide the earliest possible warning of fire. The sensor is optimized to detect larger smoke particles produced by smoldering fires, such as those caused by unextinguished cigarettes. It also distinguishes between real threats and smoke/vapor produced during showering, cooking, and other everyday activities, helping minimize the number of false alarms. A patented smoke entry system helps ensures reliable detection by providing a direct air pathway to the sensor.
Electrochemical Sensor Monitors CO Levels
The alarm also features an advanced electrochemical sensor that detects carbon monoxide leaks from a variety of sources, such as faulty fuel-burning appliances, blocked chimneys, and cars left running in the garage. Carbon monoxide can't be seen, smelled, or tasted in the air, and it is the leading cause of accidental poisoning deaths in America. By placing carbon monoxide detectors on every floor of the home and in each sleeping room, you can help protect your family from the danger of carbon monoxide.
Talking Voice Alarm Tells You Where the Danger Is
The First Alert Smoke and Carbon Monoxide Alarm not only alerts you when smoke or carbon monoxide has been detected, but it also tells you where the danger is.
Modern, Sleek Design
Unlike older, bulkier detectors, the First Alert PC910V Smoke and Carbon Monoxide Alarm features a modern, thin design that can be unobtrusively mounted on a wall or ceiling. The sleek white finish coordinates seamlessly with most home decor.
Built-In 10-Year Battery
The First Alert PC910V Combination Photoelectric Smoke and Carbon Monoxide Alarm features a built-in 10-year lithium battery that provides continuous power for the life of the detector. An end-of-life timer lets you know when the device should be replaced.
First Alert 10 Year Battery Photoelectric Combo Smoke & Carbon Monoxide Alarm with Voice & Location can be preprogrammed with the following locations:
Basement
Kitchen
Child's Bedroom
Living Room
Dining Room
Master Bedroom
Family Room
No Location
Guest Bedroom
Office
Hallway
Utility Room
* Meets California, New York and New Jersey 10 Year Smoke Alarm Requirements
---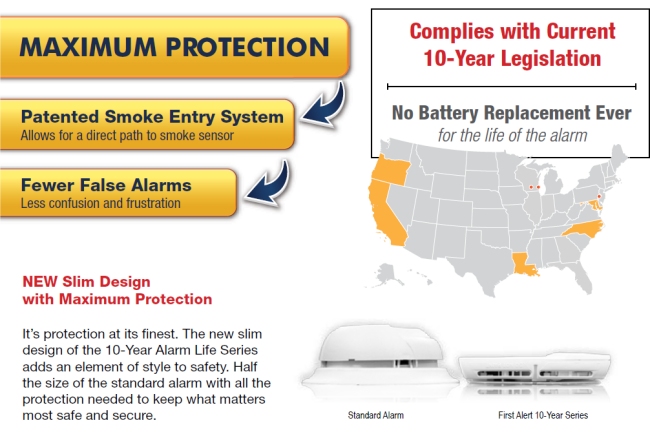 How to Activate Your First Alert 10-Year Smoke Alarm: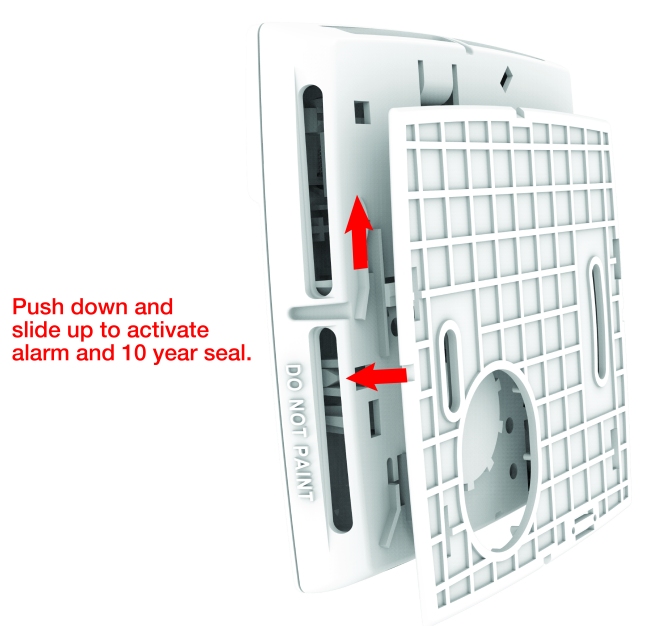 What is the proper placement of smoke alarms?
It is important that you have the proper placement for your smoke alarms. Install your alarms at least 20 feet from appliances like furnaces and ovens, which produce combustion particles. Alarms should be at least 10 feet from high humidity areas like showers and laundry rooms, and at least 3 feet from heat/AC vents. Be sure to install a smoke alarm in each bedroom, one at the top of each stairwell, and one on every level.
My smoke alarm keeps chirping and beeping. Why does my smoke alarm chirp intermittently?
It is likely that the reason your smoke alarm keeps chirping and beeping is that the battery is low. Whenever your smoke alarm keeps chirping, replace the battery immediately.
Other reasons include: It could be a different device or appliance such as a security system, monitor, carbon monoxide alarm, or other device which has a similar low battery or alert signal. Some of the same factors that cause unwanted alarms can cause intermittent alarms: dust and insects in the alarm or power interruptions in hardwired alarms. Improper wiring on AC or AC/DC smoke alarms. AC alarms will chirp every 5 seconds if the interconnect wire is grounded. The orange interconnect wire should NEVER be grounded; it should only be used to interconnect other smoke alarms or compatible devices.
Why doesn't my smoke alarm sound when I push the test button?
It is important that you frequently test your smoke alarms. When you are testing your smoke alarm, there are a number of reasons why the alarm might not sound:
You may not be holding the test button down long enough. Try holding it down for up to 10 seconds (20 seconds on photoelectric models) .
Your battery may not be installed properly or snapped all the way in place. Even if the alarm sounded briefly when the battery touched the terminals, you still need to make sure it is snapped securely in place. If the battery is loose, in cannot power the smoke alarm properly. After installing new batteries, be sure to test your smoke detector.
Your AC power may not be on. AC and AC/DC units will have a power indicator light (red or green) that shines continuously when they are receiving electrical power.
If you have a 10-Year model, the smoke alarm may not have been properly activated. If the tab broke away before the alarm was activated, you can use a toothpick to move the switch over to test the alarm.
Why does my smoke alarm go off when I install a battery or turn on the AC power?
It is normal for smoke alarms to go off and sound briefly (up to 5-10 seconds) when you install a new battery or when they are powered up. If the alarm continues to go off and no smoke is present, the cause may be one of the following:
There may be insufficient battery power, try new batteries.
Problems with voltage or insufficient electrical power (brown out) may cause a continuous weak sounding alarm. For AC or AC/DC models, temporarily disconnect power at the service panel until the brown out is over. If you do not restore the AC power, your smoke alarms cannot warn you of a fire.
Incompatible warning device. If an incompatible alarm or auxiliary device is linked into a series of AC or AC/DC smoke alarms it may cause the system inadvertently go off.
My smoke alarm keeps chirping, even with a new battery. What is causing this?
There are a number of possible causes for your smoke alarm to keep chirping even with a new battery.
It is possible that your smoke alarm "silence" button was pushed by mistake. The alarm will now "chirp" once a minute for up to 15 minutes before resetting.
Are you sure it's the smoke alarm? Funny to ask, but other devices have similar low battery chirps or warning tones.
Your "new" batteries may not be fresh. If batteries are stored, especially in cold areas like refrigerators, they lose their charge more quickly. Always check the freshness date on the package when buying new batteries. Keep plenty of replacement batteries on hand so that you are sure to always be protected by your smoke alarms.
I lost my First Alert smoke alarm owner's manual. How can I get a new one?
First Alert smoke alarm owner's manuals are available online for download at no cost. Find your alarm in our
Smoke Alarms
section.
Why does the National Fire Protection Association (NFPA) recommend that home smoke alarms be replaced after 10 years?
Smoke alarms have a limited life. Although each smoke alarm and all of its parts have passed many stringent tests and are designed to be as reliable as possible, any of these parts could fail over time. Therefore, you must test the devices weekly. The unit should be replaced immediately if it is not operating properly. The performance of smoke alarms older than 10 years is simply not reliable. To ensure your family's safety, all carbon monoxide and smoke/CO combination alarms need to be replaced every 5-7 years. All smoke alarms need to be replaced every 10 years.
If it's time to replace your alarms, consider the NEW 10-Year Life series and never have to worry about a battery replacement for the life of the alarm.10-Year alarms are available in
smoke
,
carbon monoxide
and
combination
alarms.
How do I get my carbon monoxide alarm to stop chirping?
If your carbon monoxide alarm keeps chirping, the battery may be low or weak. On First Alert carbon monoxide detectors, check to see if the battery light is yellow or green. If the alarm is chirping and the light is yellow, it means the battery is low. The way to get a carbon monoxide alarm to stop chirping is to replace the battery.
Where should I install carbon monoxide alarms? What is proper carbon monoxide alarm placement?
It is very important to install carbon monoxide alarms near or in each separate sleeping area. Many states now require that a carbon monoxide alarm is placed in each bedroom. For added protection, placement of an additional carbon monoxide alarm at least 15-20 feet away from the furnace or fuel burning heat sources is recommended. Also, install carbon monoxide alarms at least 10 feet from sources of humidity like bathrooms and showers. In two story houses, install one carbon monoxide alarm on each level of the home. If you have a basement, carbon monoxide alarm placement is recommended at the top of the basement stairs.
Is there anywhere I shouldn't install carbon monoxide alarms?
Do not install carbon monoxide alarms in garages, kitchens, furnace rooms, or in any extremely dusty, dirty, humid, or greasy areas. Do not install alarms in direct sunlight, or areas subjected to temperature extremes. These include unconditioned crawl spaces, unfinished attics, un-insulated or poorly insulated ceilings, and porches. Carbon monoxide alarms should not be installed in outlets covered by curtains or other obstructions. Do not install in turbulent air-near ceiling fans, heat vents, air conditioners, fresh air returns, or open windows. Blowing air may prevent carbon monoxide from reaching the CO sensors.
How many carbon monoxide alarms should I have in my home?
So how many carbon monoxide alarms should you have in your home? The National Fire Protection Association (NFPA) recommends that you should have a carbon monoxide alarm centrally located outside of each separate sleeping area in the immediate vicinity of the bedroom. For added protection, you should have additional carbon monoxide alarms in each separate bedroom and on every level of your house, including the basement. Some states now require that you have a carbon monoxide alarm in each bedroom of the house. If you install only one carbon monoxide alarm in your home, place it near or in your bedroom.
What is the proper way to do a carbon monoxide alarm test?
The following procedure is the proper way to do a carbon monoxide alarm test - Press and hold the Test Button on the front of the alarm until the alarm sounds. Be sure you hold the button down long enough; it can take up to 20 seconds for the alarm to respond to the test.
Is it a false alarm when my carbon monoxide alarm sounds and there doesn't seem to be a problem?
A carbon monoxide alarm false alarm should not occur if your alarm is in working order. Remember, carbon monoxide is an odorless, colorless gas. If your carbon monoxide alarm went off, it detected potentially harmful amounts of carbon monoxide. After the professionals have evaluated the situation, make sure no one has any symptoms of carbon monoxide poisoning.
Here are a few situations that may cause a carbon monoxide alarm "false alarm:"
The carbon monoxide alarm needs to be relocated. Carbon monoxide alarms should be located 15-20 feet away from all fossil fuel burning sources like furnaces and stoves. Alarms should be located 10 feet away from sources of humidity like showers.
Fossil fuel burning appliances may not be burning fuel completely. Check pilot lights/flames for blue color. Appearance of yellow or orange flames indicates incomplete combustion-a source of carbon monoxide.
Will carbon monoxide alarms detect explosive gas leaks?
No, a single function carbon monoxide alarm reacts to carbon monoxide only. To detect explosive gas, you need an explosive gas detector. Different kinds of explosive gas can be detected and it is recommended that any home that utilizes natural or propane gas have at least one explosive gas leak detector.
What does the flashing red light mean?
The red light flashes to show that the CO Alarm is receiving battery power.
Product Details
10 Year Photoelectric Combo Smoke & CO Alarm w/ Voice & Location Features:
2 in 1 Combo Smoke and Carbon Monoxide Alarm.
Voice and Location Feature.
10-Year Alarm Life.
No Battery Changes Needed for the Life of the Alarm.
Photoelectric Nuisance Resistant Technology.
Electrochemical Sensor.
New Sleek/Thin Design.
3V Lithium Power Cell Included.
Power LED and Alarm Indicator.
Mute/Silence Button.
End of Life Signal.
Versatile Mount- Wall or Ceiling.
Easy Slide Mounting Bracket.
Peak Level Memory.
Emits T3 Pattern.
Product Dimensions (LxWxH): 4.92 x 0.94 x 4.92 in.
10 Year Limited Warranty.
Product Specs
Product Manuals
First Alert PC910V 10 Year Photoelectric Smoke & CO Alarm, Voice & Location Videos
If you are interested in ordering a large quantity of items you may qualify for volume pricing discounts. Volume Discount Pricing is a great way for customers to save big on large, bulk orders of most items available in our store. Please send a bulk order request to our friendly sales staff so they may create a quote and provide personal service for your order! You will receive a response within 1-2 business days and our office hours are Monday through Friday, 8am-5pm CST.
We make it as easy as possible to ensure you get the lowest prices available:
Let us know what products & the quantities you are interested in.
Get a detailed quote from a dedicated sales rep.
Our warehouse ships directly to you.
You enjoy the savings & are now a preferred customer.
Send A Request Now
First Alert PC910V 10 Year Photoelectric Smoke & CO Alarm, Voice & Location Reviews
Gordon Koroly
December 17, 2017
Easy to install
The Smoke & CO Alarms were easy to install. The installation would have been easier if the instructions were in a larger print font, too small for my 70 year old eyes.
Michael Marra
December 12, 2017
Combo Smoke/CO Alarm
Stylish design that takes up less space than individual units.
William Turk
July 8, 2015
Combo Smoke & CO Alarm
I recently purchased the First Alert Combo Smoke & CO Alarm. It seems to be as advertised. It was very easy to install. I just read and followed the instructions. This replaced a similar First Alert device. The old unit had a battery that had to be replaced on a regular basis. It was advertised to last for 5 years, which it did, almost to the day. This experience was why I purchased two of the new 10 year units, with a 10 year battery. I trust First Alert to provide great protection for the advertised life, based on my previous experience.
Jennifer- MN
February 6, 2015
combo smoke and co alarm
Like how it says to evacuate building in case of co gas.
Manuel Torres
January 30, 2015
first alert purchase
I use to have a separate smoke alarm and CO alarm and sometimes I forget which batteries need to be changed first. Now I have both in one and a 10 year battery life so I don't need to worry anymore.
Frank Morian
November 22, 2014
EZ & Simple
Great service, easy to install - set up and forget!
Gerald Herr
August 12, 2014
Hope they work
First one had clips missing on unit, returned. The second unit sporatic test, did not work , then I removed it and it worked. Directions on installing confusing. Im not sure about the quality at this time.
Smart product
Great slim design. Helps to know where in the house the hazard is by the voice alert.