Great Deals on Brands You Can Trust - Fire Safety Alarms, Smoke Detectors,
CO Alarms, Fire Extinguishers & Other Home Safety Products
Great Brands Outlet has aligned itself with one of the most recognized and distinguished brands in Home Safety. First Alert products are known for their incredible versatility and reliability. They're especially efficient in recognizing the ever elusive and potentially fatal Carbon Monoxide leak or origins of a fire. At Great Brands Outlet, there's nothing we value more than offering you swift and easy access to all of these lifesaving products at a reduced price.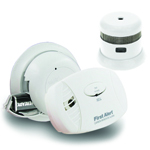 A bold leap in ingenuity has allowed First Alert to equip its Alarms with dual sensing mechanics. Acting as a Smoke and Carbon Monoxide Alarm, the First Alert Photoelectric Smoke & CO Combo Alarm PC900 takes full advantage of a sophisticated and patented technology that can actually decipher between an endangering smoke caused by a smoldering fire or a relatively harmless vapor/mist caused by shower and cooking steam. Subsequently, this will lead to a heightened awareness in detecting genuine threats and shorten the number of false alarms significantly. First Alert also produces individual Smoke and Carbon Monoxide Alarms. Often pronounced as the 'silent killer', the threat of Carbon Monoxide cannot be understated nor can it be overlooked. Equip your home with the very best defense in warding off potential disasters.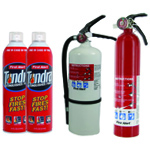 You can never be too prepared. A home without a Fire Extinguisher places itself in an unnecessary and altogether avoidable danger. First Alert features a wealth of Fire Extinguishers that range in size and power. From Kitchen to Commercial grade, these are an absolute must and a proven ally in the defense against fire. The unpredictable nature and sheer ferocity of a fire demands the use of a superior product. First Alert has made certain that everyone has the option in selecting the appropriate Fire Extinguisher to suit their individual needs.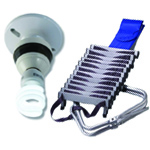 There are other dangers in the household to be observed that may supersede the threat of a potential fire. The importance of having clean and purified drinking and bathing water in any household is vital. First Alert understands this dilemma and has extended their thorough approach to safety with the release of various Testing Kits. Water Test Kits offer an unprecedented peace of mind when it comes to knowing exactly what's in your family's water supply. The many ailments and dangers associated with lead exposure can be avoided with the proper use of Lead Test Kit. The presence of mold can lead to a plethora of health risks that can be prevented with a Mold Test Kit. The odorless and immensely lethal radon is reported to cause thousands their lives annually. The proper use of a Radon Test Kit can play a significant role in establishing a safe household for you and your family. Lastly, First Alert has created the ultimate in backup plans with its Two and Three Story Escape Ladders. Incredibly versatile and responsive by design, these ladders are absolute lifesavers for all of those unexpected disasters. First Alert covers all of the bases in preparing your home and establishing a safe environment for you and your loved ones.
Great Brands Outlet offers only the highest end products when it comes to preparing your home for a potential disaster. Our successful collaboration with First Alert has given us the privilege of offering you access to a superior brand at a substantial fraction of the cost.
| | | | |
| --- | --- | --- | --- |
| | Honeywell products include a variety of home consumer goods like; fans, air purifiers, heaters, humidifiers, furnace filters, thermostats, generators, door chimes, air coolers, light switch timers and much more | | First Alert products include smoke alarms, carbon monoxide detectors, security safes, security cameras and other home safety products. |
Great Brands Outlet News Archive
The Design House brand has gathered an extensive selection of aesthetically charming products that range from Ceiling Lighting to Bathroom Vanity Tops. Representing the premier in appearance, performance and overall versatility, Design House offers a significant amount of appealing options for homeowners to peruse...
Find everything you need and more for the home at Great Brands Outlet! We offer a variety of home electronics, appliances, security devices and more at the lowest prices in the market today...
Stay warm during this polar vortex and keep your heating costs low with portable heaters from Honeywell! Get the best price at GreatBrandsOutlet.com..