First Alert 10 Year Carbon Monoxide Alarm, Designer Series - CO910
Availability: Sorry, this item has been DISCONTINUED.
You Save: $30.00 (42% Off)
10 Year Carbon Monoxide Alarm:
By prioritizing safety with intuitive design and superior technology, First Alert has secured their status as an elite brand. The introduction of the Ten Year Series of Carbon Monoxide Alarms further solidifies First Alert's endeavor to improve health and bolster the overall safety of you and everyone closest to you. The CO910 Carbon Monoxide Alarm features an unprecedented ten year life span that complies with the Current 10-Year Legislation. A leap in technology has eliminated the need to ever power or charge this unit with batteries. This allows for a decade's worth of uninterrupted protection. An end of life signal will readily alert owners once the unit has reached its ten year capacity.
Attain absolute peace of mind with the utilization of an Electrochemical CO Sensor that's proven to be the industry standard for excellence in the identification of carbon monoxide. The addition of a fully powered LED and Alarm Indicator serve admirably in warning all nearby participants of a leak in CO. A near infinite amount of installation options are available with the inclusion of an Easy Sliding Mounting Bracket. Combine this with the unit's sleek and thin design and you have an alarm that can be installed in nearly any setting. Half the size of competing models and a decade's worth of protection reinforce First Alert's endeavor to deliver products that excel in protecting what matters most.
---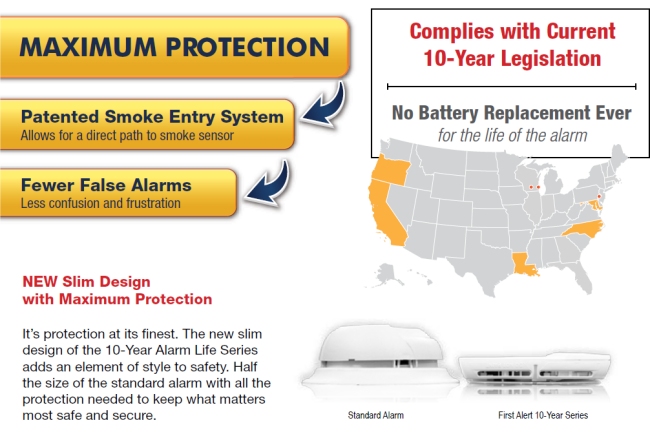 How to Activate Your First Alert 10-Year Smoke Alarm: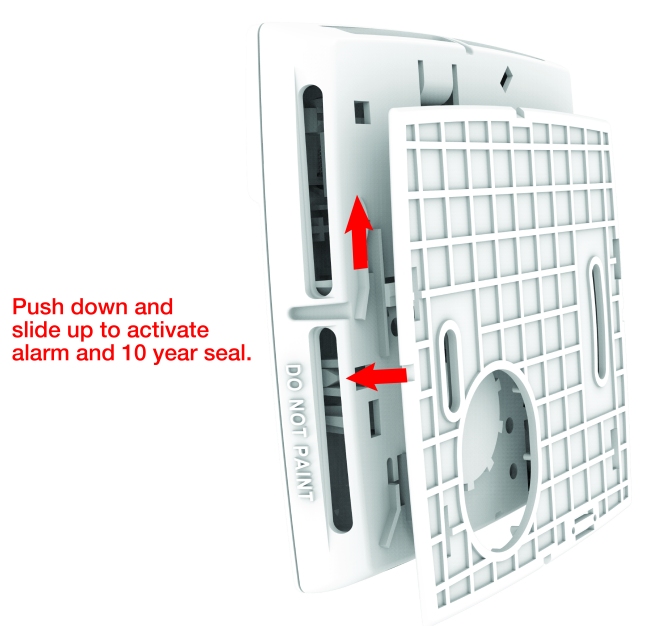 How do I get my carbon monoxide alarm to stop chirping?
If your carbon monoxide alarm keeps chirping, the battery may be low or weak. On First Alert carbon monoxide detectors, check to see if the battery light is yellow or green. If the alarm is chirping and the light is yellow, it means the battery is low. The way to get a carbon monoxide alarm to stop chirping is to replace the battery.
Where should I install carbon monoxide alarms? What is proper carbon monoxide alarm placement?
It is very important to install carbon monoxide alarms near or in each separate sleeping area. Many states now require that a carbon monoxide alarm is placed in each bedroom. For added protection, placement of an additional carbon monoxide alarm at least 15-20 feet away from the furnace or fuel burning heat sources is recommended. Also, install carbon monoxide alarms at least 10 feet from sources of humidity like bathrooms and showers. In two story houses, install one carbon monoxide alarm on each level of the home. If you have a basement, carbon monoxide alarm placement is recommended at the top of the basement stairs.
Is there anywhere I shouldn't install carbon monoxide alarms?
Do not install carbon monoxide alarms in garages, kitchens, furnace rooms, or in any extremely dusty, dirty, humid, or greasy areas. Do not install alarms in direct sunlight, or areas subjected to temperature extremes. These include unconditioned crawl spaces, unfinished attics, un-insulated or poorly insulated ceilings, and porches. Carbon monoxide alarms should not be installed in outlets covered by curtains or other obstructions. Do not install in turbulent air-near ceiling fans, heat vents, air conditioners, fresh air returns, or open windows. Blowing air may prevent carbon monoxide from reaching the CO sensors.
How many carbon monoxide alarms should I have in my home?
So how many carbon monoxide alarms should you have in your home? The National Fire Protection Association (NFPA) recommends that you should have a carbon monoxide alarm centrally located outside of each separate sleeping area in the immediate vicinity of the bedroom. For added protection, you should have additional carbon monoxide alarms in each separate bedroom and on every level of your house, including the basement. Some states now require that you have a carbon monoxide alarm in each bedroom of the house. If you install only one carbon monoxide alarm in your home, place it near or in your bedroom.
What is the proper way to do a carbon monoxide alarm test?
The following procedure is the proper way to do a carbon monoxide alarm test - Press and hold the Test Button on the front of the alarm until the alarm sounds. Be sure you hold the button down long enough; it can take up to 20 seconds for the alarm to respond to the test.
Is it a false alarm when my carbon monoxide alarm sounds and there doesn't seem to be a problem?
A carbon monoxide alarm false alarm should not occur if your alarm is in working order. Remember, carbon monoxide is an odorless, colorless gas. If your carbon monoxide alarm went off, it detected potentially harmful amounts of carbon monoxide. After the professionals have evaluated the situation, make sure no one has any symptoms of carbon monoxide poisoning.
Here are a few situations that may cause a carbon monoxide alarm "false alarm:"
The carbon monoxide alarm needs to be relocated. Carbon monoxide alarms should be located 15-20 feet away from all fossil fuel burning sources like furnaces and stoves. Alarms should be located 10 feet away from sources of humidity like showers.
Fossil fuel burning appliances may not be burning fuel completely. Check pilot lights/flames for blue color. Appearance of yellow or orange flames indicates incomplete combustion-a source of carbon monoxide.
Will carbon monoxide alarms detect explosive gas leaks?
No, a single function carbon monoxide alarm reacts to carbon monoxide only. To detect explosive gas, you need an explosive gas detector. Different kinds of explosive gas can be detected and it is recommended that any home that utilizes natural or propane gas have at least one explosive gas leak detector.
Product Details
10 Year Carbon Monoxide Alarm Features:
Designer Series Carbon Monoxide Alarm.
10-Year Alarm Life.
No Battery Changes for the Life of the Alarm.
Electrochemical CO Sensor.
New Sleek/Thin Design.
3V Lithium Power Cell Included.
Power LED and Alarm Indicator.
Mute/Silence Button.
End of Life Signal.
Versatile Mount- Wall or Table Top (Table top stands included) .
Easy Slide Mounting Bracket.
10 Year Limited Warranty.
Emits T3 Pattern.
Product Dimensions (LxWxH): 4.92 x 0.96 x 4.92 in.
Product Specs
Product Manuals
First Alert CO910 10 Year Carbon Monoxide Alarm, Designer Series Videos
If you are interested in ordering a large quantity of items you may qualify for volume pricing discounts. Volume Discount Pricing is a great way for customers to save big on large, bulk orders of most items available in our store. Please send a bulk order request to our friendly sales staff so they may create a quote and provide personal service for your order! You will receive a response within 1-2 business days and our office hours are Monday through Friday, 8am-5pm CST.
We make it as easy as possible to ensure you get the lowest prices available:
Let us know what products & the quantities you are interested in.
Get a detailed quote from a dedicated sales rep.
Our warehouse ships directly to you.
You enjoy the savings & are now a preferred customer.
Send A Request Now
First Alert CO910 10 Year Carbon Monoxide Alarm, Designer Series Reviews
Stephen Smith
November 11, 2019
Versatile CO monitor
Product was put on the stand included and can be moved from room to room if necessary. Nice compact size.
John Rajczi
October 6, 2019
10 year battery CO alarm
Ordered about 26 July,2019. Just installed today 6 Oct. went very well. would buy them again if I had to. Thank you for a very easy to use product.
William Butler
April 9, 2018
Like the slimness of the unit
William Casnovsky
March 5, 2018
Good Product
Arrived with all the necessary components to mount on the wall very easily. Like the 10 year - no change battery. Nice Industrial Design.
Dan Batenhorst
November 18, 2016
easy to install
Robert Farris
June 21, 2016
Firehouse Subs 1467
Nice product, easy install.
Brad Bruzio
April 13, 2016
So far, seems like a good product.
10 year Carbon Monoxide detectors
Feel more secure knowing my senior residents are safe with 10 yr Carbon monoxide detectors. Will continue to purchase them.
Carol Lampman
April 30, 2015
Great Product
Until now, we have not had a carbon monoxide alarm. We now have a sense of comfort knowing that we are protected. This model is easy to install and has an attractive slim design. Great buy for the money.
Bryne Ohde
April 22, 2014
Looks good on a shelf.
Instead of putting more holes in my wall I placed it on a shelf in our hallway and, my wife said it looked fine. No need to hang it on a wall.