Honeywell QuietSet Whole Room Tower Fan - Black, HY-280
Availability: Sorry, this item has been DISCONTINUED.
You Save: $15.09 (18% Off)
Powerful, quiet, whole room cooling.
8 speed levels of quiet control.
Touch button electronic controls.
Oscillation for wide area cooling.
Digital display, adjustable thermostat.
1,2,4 & 8 hour auto shut-off timer.
Remote control with on-product housing.
Carry handle & cord management feature.
Product Features
The Honeywell HY-280 QuietSet Whole Room Tower Fan was designed to release large amounts of cool air into the largest of rooms and provide a heightened level of comfort and cooling. This unit comes equipped with an impressive 5 separate speed levels of quiet control, a touch button electronic panel and a remote control that ensures every user an abundance of flexible options for accessing their HY-280. An auto shut off timer than ranges from 1 to 8 hours has been included and establishes peace of mind by offering even more options to utilize. Incredibly versatile by design, the HY-280 comes with a carry handle that effectively eliminates the hassle of moving your fan from one room to the next.
The Honeywell QuietSet Whole Room Tower Fan was designed to offer you 8 quiet cooling settings. This elegant fan is perfect for any kitchen or living room and features both breeze and oscillation settings. Other key features include a digital thermostat and a 1-8 hour shut off timer.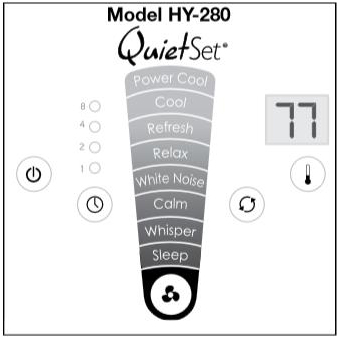 Product Details
Recommended for medium to large rooms
Color: Black
Product Dimensions: 10.8 x 8.2 x 32.8 inches
1 year limited warranty
Product Specs
Product Manuals
Honeywell HY-280 QuietSet Whole Room Tower Fan - Black Video
If you are interested in ordering a large quantity of items you may qualify for volume pricing discounts. Volume Discount Pricing is a great way for customers to save big on large, bulk orders of most items available in our store. Please send a bulk order request to our friendly sales staff so they may create a quote and provide personal service for your order! You will receive a response within 1-2 business days and our office hours are Monday through Friday, 8am-5pm CST.
We make it as easy as possible to ensure you get the lowest prices available:
Let us know what products & the quantities you are interested in.
Get a detailed quote from a dedicated sales rep.
Our warehouse ships directly to you.
You enjoy the savings & are now a preferred customer.
Send A Request Now
Honeywell HY-280 QuietSet Whole Room Tower Fan - Black Reviews
Speed settings stopped working
This fan worked great for quite awhile and then the speed modes stopped changing. It stays on Sleep and wont change off of it. Other than that it works well. Ive been searching for fixes online with no luck. So I guess Im stuck with just the lowest speed and nothing more.
Larissa McCrae
December 26, 2016
Great product. Love the remote
Alanna Frendt
October 12, 2016
I am a fan of this fan
I own 3 of these fans. They are the best fans I have ever had. I like the many power settings to choose from and the slim design doesn't take up too much space in your room. I highly recommend this fan to others. You won't be disappointed.
Patrice Reid
September 23, 2016
I love this fan for its quietness & cool air..
Charles Napolitano Napolitano
September 21, 2016
Excellant Choice
Provides enough cooling without the use of too much energy. The unit is surprisingly quiet. Maximum satisfaction.
Patricia Long
July 15, 2016
Like these fans very much. My son has them and we inquired about them. It has saved us from running the AC all night just to cool our bedroom. The quiet noise is perfect for helping us enjoying a good night's sleep.
Emelita  Latreille
November 5, 2015
Very good and I'm very satisfied.
Best fan ever
Been using for 2 weeks. Very quiet and really puts out the air. Have yet to use above the lowest speed. Very impressed so far. Would buy again.
Phillip Defreitas
June 21, 2015
Product worth every dime
I've bought many fans before and not one of them can compare with my new Honeywell. There are none like it. I've never heard a fan spin so quietly before.
Barbara McCarty
May 29, 2015
Our family rates Honeywell products in the excellent range. Your fan is definitely in that category. It is quiet and provides excellent cooling in our home. We will continue using your products.