First Alert Hardwired Photoelectric Smoke Alarm with Battery Backup - 7010B
You Save: $10.00 (25% Off)
Hardwired Photoelectric Smoke Alarm w/ Battery Backup
Promote greater fire safety with the First Alert 7010B Hardwired Photoelectric Smoke Alarm with Battery Backup. This hardwired smoke detector uses a photoelectric smoke sensor to reliably detect smoke produced by smoldering fires, helping give you a vital early warning of fire. A battery backup helps ensure seamless protection in the event of a power outage.
Photoelectric Sensor Warns of Smoldering Fires
The First Alert 7010B alarm comes equipped with a photoelectric sensor to provide the earliest possible warning of fire. The sensor is optimized to detect larger smoke particles produced by smoldering fires, such as those caused by unextinguished cigarettes. It also distinguishes between real threats and smoke/vapor produced during showering, cooking, and other everyday activities, helping minimize the number of false alarms.
Optipath 360° for Comprehensive Detection
Optipath 360° technology enhances the alarm's detection abilities by providing the sensor with 360° access to the layer of air around the ceiling. This allows the sensor to detect smoke, combustion particles, volatile components, and other fire signatures in the surrounding air more easily.
Easy Installation
The universal mounting bracket takes the hassle out of installation and covers up drywall cutouts, while tamper-resistant locking pins keep the alarm secure. Plug-in power connectors allow you to easily connect the alarm to an existing power source, making installation even easier. AC-powered smoke alarms must be installed in accordance with all local electrical codes.
Battery Backup for Detection During a Power Outage
This smoke alarm is designed for hardwired installation, but it also features a battery backup that helps ensure continued functionality in the event of a power outage. The unit comes with a 9-volt battery and features an easy-to-access battery drawer.
Works in Tandem with Other First Alert Alarms
In addition to functioning independently, this smoke alarm can also integrate with up to 12 other First Alert or BRK hardwired alarms for coverage of larger spaces. It also integrates with up to six other compatible devices, such as bells, horns, and repeaters. If one alarm in the series is triggered, they will all sound. The alarm features a latching indicator to identify which unit triggered the alarm, alerting you to the area of danger.
Recommended replacement for the following obsolete models: BRK 2002RAC
First Alert Photoelectric Smoke Alarm with Battery Backup 7010B
* California and New York Residents - Please note this alarm is not compliant with your State's 10 Year Sealed Battery Alarm Legislation Requirements.

How to Install First Alert 7010B Hardwired Smoke Alarms:
In this guide, we'll be showing you how to install First Alert Hardwired Smoke and Carbon Monoxide Alarms. Here are a few items you'll need before starting the installation process: Needle-nose pliers or utility knife, screwdriver, wire stripper, wire nuts and a ladder.
Hardwired Smoke or Carbon Monoxide Alarm Requirements:
120V household electrical circuit (unswitched 120VAC)
Standard wiring junction box to a 4 in. (10 cm) size, on either the ceiling or wall
Selecting an appropriate location to install your smoke and carbon monoxide alarms (see below guidelines for additional information):

When installing an alarm on the wall, the top edge of an alarm should be placed between 4 in. (100 mm) and 12 in. (300 mm) from the wall/ceiling line.
When installing an alarm on the ceiling, place the alarm as close to the center as possible.
In either case, install the alarm at least 4 in. (100 mm) from where the wall and ceiling meet.
---
Connecting First Alert Hardwired Alarms to 120V Wiring
To begin, turn off power at the junction box and connect your alarm to the building's electrical wiring.
Locate the junction box and turn off power
Remove the power connector from the new alarm's packaging
Using wire nuts, attach the hot (black), neutral (white), and interconnect (orange) wires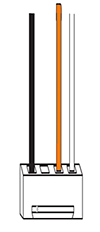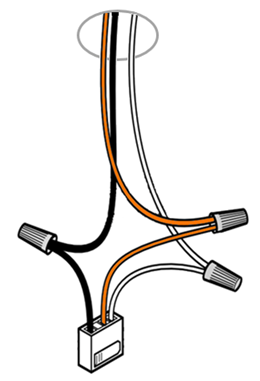 Black wire
(hot)
Attach to black wire on power connector
White wire
(neutral)
Attach to white wire on power connector
Orange wire
(interconnect)

Standalone (single-station) alarm: This wire is not needed; tuck the orange wire into the junction box.

Interconnected alarms:

Strip 1/2 in. from the orange wire on the connector
Use a wire nut to attach it to the orange wire in the junction box (see image below).
---
Mounting First Alert Hardwired Alarms
Secure the mounting bracket to the ceiling or wall using screws (included in the package)
Insert the power connector into the plug on the back of your alarm
Tuck any hanging wires into the junction box
Position the base of the alarm onto the bracket and turn it clockwise until it's secured
Remove the pull-tab to activate the backup battery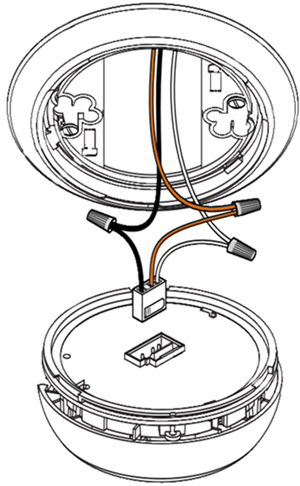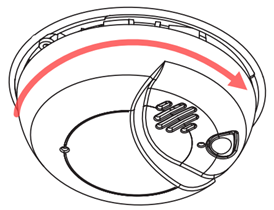 ---
Installing Additional and/or Interconnecting First Alert Hardwired Alarms
If you are installing more smoke or carbon monoxide alarms, you'll want to repeat the process throughout the building. Interconnected smoke and co alarms must meet all requirements:
The same fuse or circuit breaker must power all interconnected alarms.

Up to 18 compatible detectors can interconnect, with a limit of 12 smoke alarms.

The total length of wire interconnecting the alarms should be less than 1,000 ft. (300 meters). This type of wire is commonly available at hardware and electrical supply stores.

All wiring must conform to all local electrical codes and NFPA 70 (NEC). Refer to NFPA 72, NFPA 101, and your local building code for more information.

Interconnect wiring diagram: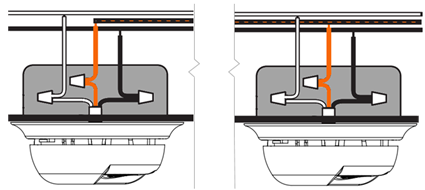 If you have any doubts or reservations about these interconnect requirements, please contact an experienced electrician to install your wiring and hardwired alarms.
---
Restoring Power and Testing Hardwired Alarms
Once you've installed your hardwired alarms, you'll want to restore power to the junction box. Under regular operation, the power indicator light on the alarm will shine/blink to indicate that it is receiving AC power.
Here's how you can test standalone or interconnected alarms:
Standalone Alarms: Press and hold the Test/Silence button until the unit triggers an alarm.

Interconnected Alarms: Press and hold the Test/Silence button until the first unit triggers an alarm. All interconnected detectors should sound off. Repeat this process to test each alarm in the interconnected series.
What is the proper placement of smoke alarms?
It is important that you have the proper placement for your smoke alarms. Install your alarms at least 20 feet from appliances like furnaces and ovens, which produce combustion particles. Alarms should be at least 10 feet from high humidity areas like showers and laundry rooms, and at least 3 feet from heat/AC vents. Be sure to install a smoke alarm in each bedroom, one at the top of each stairwell, and one on every level.
My smoke alarm keeps chirping and beeping. Why does my smoke alarm chirp intermittently?
It is likely that the reason your smoke alarm keeps chirping and beeping is that the battery is low. Whenever your smoke alarm keeps chirping, replace the battery immediately.
Other reasons include: It could be a different device or appliance such as a security system, monitor, carbon monoxide alarm, or other device which has a similar low battery or alert signal. Some of the same factors that cause unwanted alarms can cause intermittent alarms: dust and insects in the alarm or power interruptions in hardwired alarms. Improper wiring on AC or AC/DC smoke alarms. AC alarms will chirp every 5 seconds if the interconnect wire is grounded. The orange interconnect wire should NEVER be grounded; it should only be used to interconnect other smoke alarms or compatible devices.
Why doesn't my smoke alarm sound when I push the test button?
It is important that you frequently test your smoke alarms. When you are testing your smoke alarm, there are a number of reasons why the alarm might not sound:
You may not be holding the test button down long enough. Try holding it down for up to 10 seconds (20 seconds on photoelectric models) .
Your battery may not be installed properly or snapped all the way in place. Even if the alarm sounded briefly when the battery touched the terminals, you still need to make sure it is snapped securely in place. If the battery is loose, in cannot power the smoke alarm properly. After installing new batteries, be sure to test your smoke detector.
Your AC power may not be on. AC and AC/DC units will have a power indicator light (red or green) that shines continuously when they are receiving electrical power.
If you have a 10-Year model, the smoke alarm may not have been properly activated. If the tab broke away before the alarm was activated, you can use a toothpick to move the switch over to test the alarm.
Why does my smoke alarm go off when I install a battery or turn on the AC power?
It is normal for smoke alarms to go off and sound briefly (up to 5-10 seconds) when you install a new battery or when they are powered up. If the alarm continues to go off and no smoke is present, the cause may be one of the following:
There may be insufficient battery power, try new batteries.
Problems with voltage or insufficient electrical power (brown out) may cause a continuous weak sounding alarm. For AC or AC/DC models, temporarily disconnect power at the service panel until the brown out is over. If you do not restore the AC power, your smoke alarms cannot warn you of a fire.
Incompatible warning device. If an incompatible alarm or auxiliary device is linked into a series of AC or AC/DC smoke alarms it may cause the system inadvertently go off.
My smoke alarm keeps chirping, even with a new battery. What is causing this?
There are a number of possible causes for your smoke alarm to keep chirping even with a new battery.
It is possible that your smoke alarm "silence" button was pushed by mistake. The alarm will now "chirp" once a minute for up to 15 minutes before resetting.
Are you sure it's the smoke alarm? Funny to ask, but other devices have similar low battery chirps or warning tones.
Your "new" batteries may not be fresh. If batteries are stored, especially in cold areas like refrigerators, they lose their charge more quickly. Always check the freshness date on the package when buying new batteries. Keep plenty of replacement batteries on hand so that you are sure to always be protected by your smoke alarms.
I lost my First Alert smoke alarm owner's manual. How can I get a new one?
First Alert smoke alarm owner's manuals are available online for download at no cost. Find your alarm in our
Smoke Alarms
section.
Why does the National Fire Protection Association (NFPA) recommend that home smoke alarms be replaced after 10 years?
Smoke alarms have a limited life. Although each smoke alarm and all of its parts have passed many stringent tests and are designed to be as reliable as possible, any of these parts could fail over time. Therefore, you must test the devices weekly. The unit should be replaced immediately if it is not operating properly. The performance of smoke alarms older than 10 years is simply not reliable. To ensure your family's safety, all carbon monoxide and smoke/CO combination alarms need to be replaced every 5-7 years. All smoke alarms need to be replaced every 10 years.
If it's time to replace your alarms, consider the NEW 10-Year Life series and never have to worry about a battery replacement for the life of the alarm.10-Year alarms are available in
smoke
,
carbon monoxide
and
combination
alarms.
Product Details
Power Source: Hardwired
Battery Backup: 9V
Sensor: Photoelectric
Interconnect: Can be linked with up to 18 units (12 Smoke, 6 CO/Heat/Relay)
Optipath 360° Technology: Patented technology provides 360° of direct access to the smoke sensor
Noise Output: 85 dB in a T3 Pattern
Single Button: One press to silence and test alarm
Easy Installation: Universal mounting bracket and plug-in power connector for hassle-free installation
Tamper Resistant: Includes Locking Pins
Dust Cover: Keeps alarm clean during construction
Improved UV Resistance: Keeps alarm from discoloring over time
Standards: UL 217
Warranty: 10 Year Limited
Product Dimensions (LxWxH): 5.6 x 1.9 x 5.6 in.
Product Weight: .7 lbs.
Product Specs
Product Manuals
First Alert Hardwired Photoelectric Smoke Alarm with Battery Backup Videos
If you are interested in ordering a large quantity of items you may qualify for volume pricing discounts. Volume Discount Pricing is a great way for customers to save big on large, bulk orders of most items available in our store. Please send a bulk order request to our friendly sales staff so they may create a quote and provide personal service for your order! You will receive a response within 1-2 business days and our office hours are Monday through Friday, 8am-5pm CST.
We make it as easy as possible to ensure you get the lowest prices available:
Let us know what products & the quantities you are interested in.
Get a detailed quote from a dedicated sales rep.
Our warehouse ships directly to you.
You enjoy the savings & are now a preferred customer.
Send A Request Now
First Alert Hardwired Photoelectric Smoke Alarm with Battery Backup Reviews
George R
October 16, 2022
Right one
So far the product has worked flawlessly without any false alarms.
Photoelectric Smoke Alarm
After 10 years, it was recommended that we replace our First Alert smoke alarms! So glad this model lasted and is still available! great product!
7010B Works Fine
I replaced two smoke detectors that were at the end of their life frame, I decided to go photoelectric to not have to worry about changing the detector every 10 years, Just blow them out and they run another 10 years.
Arielle G
December 17, 2021
Easy to use detector
We installed these ourselves. Matched the old ports well.
Gavin Pryce Lewis
November 27, 2021
First Alert Hardwired Photoelectric Smoke Alarm with Battery Backup - 7010B
Your service was excellent. My order arrived within two days. I have no complaints whatsoever and will buy from First Alert again when necessary.
first alert smoke detector review
Excellent as expected!
Peace and quiet
Did everything to get the original detector to stay out of alarm - blew it out with an air compressor, changed batteries, but the new one was installed in 30 seconds and now it's quiet. Yay
Robert Brennan
December 8, 2020
Very easy to install and no more false alarms with our older alarms!
Darlene Lopez
May 26, 2020
Easy to replace in existing old smoke alarm which stopped working after many years
William Adams
May 5, 2020
Re installation
This was a reinstallation and the detector when right into the old holder.