Shooting Accessories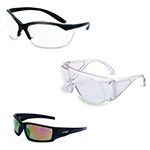 Shooting range and ballistics safety eyewear is perfectly suited to indoor or outdoor applications where sunlight and glare can cause eye strain and fatigue. Combining comfort, style and convenience all in one, these shooters safety googles are sure to be a bang at your next session.
---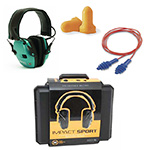 Everything from professional shooting ear muffs to disposable ear buds. Slim earmuff design makes these a very versatile earmuff for most shooting environments, with features such as ambient sound control and mp3 audio built in.
---
When it comes to minimizing the effects of noise distribution, the Great Brands Outlet has assembled a versatile selection of Honeywell Shooting Ear Muffs and Ear Plugs that combine the best aspects of comfort and hearing protection. Honeywell Ear Muffs are available for purchase in a variety of options that include: Sound Amplification Electronic Earmuffs, Folding Style Earmuffs, Neckband Style Earmuffs, Headband Style Earmuffs and Folding Earmuffs. Great Brands Outlet also offers superior vision protection in the form of Honeywell Shooting Glasses. Honeywell's selection of Shooter's Safety Eyewear perfectly meshes the finest aspects of performance, comfort and style.