Personal Protective Equipment (PPE)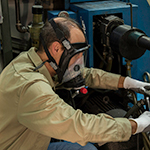 Full and half face respirators with replaceable filter cartridges help you breath cleanly in toxic spaces. From professional grade full face masks to disposable respirators with exhalation valves, find the perfect breathing solution for your type of work.
---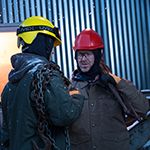 Comfortable and reliable protection in the workplace, adjustable hard hats protect from falling objects and bumps, welding helmets featuring shaders for face and eye protection and full face masks for all around use on the job.
---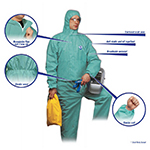 Easy slip on coveralls help you stay protected on the job site, combined with our respiratory protection products to gain full body protection from noxious dust, oil and chemical splashes.
---
The Great Brands Outlet offers a wealth of personal protective gear that can be implemented in the home or work setting. Honeywell Respiratory Protection includes: N95 masks, P100 masks and R95 masks. All of these respirators are available as disposable masks, half face masks and full face masks. R95 and P100 replacement filters have also been made available for online purchase and can be fitted in reusable masks. Personal Protection Equipment via Protective Clothing is also available for online purchase. Honeywell Coveralls meet various safety standards while providing elite protection for a series of work related tasks. Honeywell Face Shields, Hard Hats, Welding Helmets and an assortment of other safety protective equipment can be conveniently be purchased online at the Great Brands Outlet.