Commercial Air Quality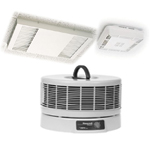 Electronic air cleaners are efficient, effective and energy-saving, great for industrial / commercial use.
---
Eliminate hazardous airborne contaminants with Honeywell's Commercial Air Filters.
---
Honeywell offers no shortage of ceiling and surface Electronic Air Cleaners. These units epitomize Honeywell's promise of offering consumers an efficient, reliable and cost saving solution to removing hazardous particles from the surrounding air. All of these units vary in size and efficiency. Portable Air Cleaners are ideal for a household setting, while Commercial units are best utilized in spacious areas resembling a working environment. Accommodating Air Filters are all readily available for each and every unit through Great Brands Outlet.